NEW DELHI: Reliance Jio on Tuesday launched its 5G fixed wireless access (FWA) service – JioAirFiber – to drive monetisation of its fifth-generation network and address the challenge of last-mile connectivity in the country.
JioAirFiber has been initially launched in eight cities – Ahmedabad, Bengaluru, Chennai, Delhi, Hyderabad, Kolkata, Mumbai and Pune.
"Our extensive fiber-to-the-home service JioFiber, already serves over 10 million customers, with hundreds of thousands more getting connected each month. But there are still millions of homes and small businesses to be connected at a rapid pace," said Akash Ambani, Chairman, Reliance Jio.
Jio says that its optical fiber infrastructure spans over 1.5 million kilometres across India, placing the telecom market leader in close proximity to over 200 million premises. But the last-mile connectivity challenges leaves "millions of potential customers without home broadband", due to the complexities and delays involved in extending optical-fiber to their premises, the telco noted in its statement.
Ambani said that JioAirFiber will enable millions of homes with "world-class digital entertainment, smart home services and broadband, through its solutions across education, health, surveillance and smart home".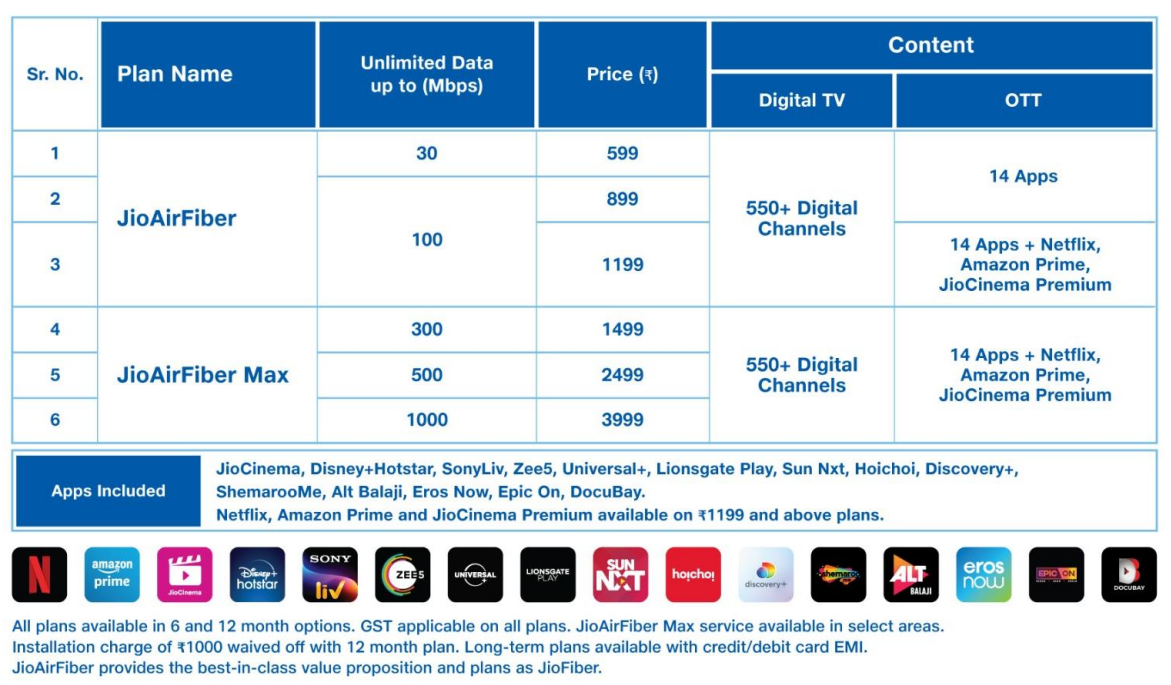 Jio has also launched FWA plans under two categories – AirFiber, and AirFiber Max, with prices starting from Rs 599 and with speeds of 30Mbps. Depending on the price, JioAirFiber users will get access to over 550 digital channels, and over 14 over-the-top (OTT) applications, as well as Netflix, Amazon Prime, JioCinema Premium, and others.
All JioAirFiber plans are available in six and 12 months option, while JioAirFiber Max will be initially available in selected areas only. As per the information by Jio, installation charge of Rs 1,000 is waived off in the 12 months plan.
Jio said its 5G FWA can address the connectivity demands for cloud PC, security and surveillance, smart home IoT, among others.
The telco will provide WiFi router for ubiquitous coverage in your home or business premise, a 4K smart set top box, and a voice-active remote at no additional cost, as per Jio's statement.
Early August, Bharti Airtel became the first Indian telecom operator to launch its 5G FWA service in India with a monthly rental price of Rs 799 and a one-time refundable deposit of Rs 2,500.