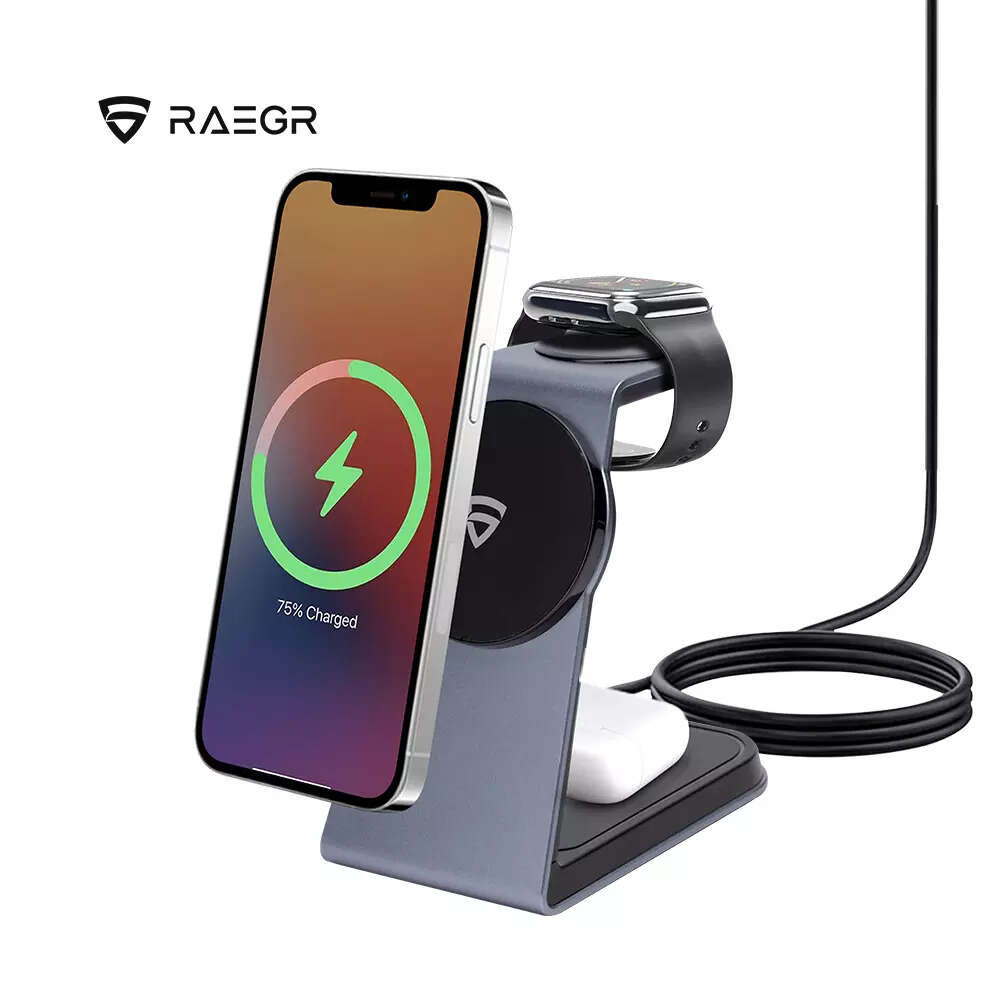 Raegr has expanded its wireless charger portfolio with the launch of its new MagicFix Arc M1050 3-in-1 wireless charging stand in India. The new wireless charger from the company is specially designed keeping Apple products in mind. In addition to this, the MagicFix Arc M1050 3-in-1 wireless charging stand is also compatible with Qi-enabled wireless charging supported smartphones.
Raegr MagicFix Arc M1050 3-in-1 wireless charging stand: Price
Raegr MagFix Arc M1050 3-in-1 Wireless Charger is available on Raegr.com, Amazon.in and Flipkart.com at Rs.2399 with up to 1.5 years of warranty.
Raegr MagicFix Arc M1050 3-in-1 wireless charging stand: Features
The wireless charging stand from Raegr is compatible with all Apple products including iPhone, Watch and AirPods. It features a slim design with an aluminium alloy frame and it features three coils that support both QC2.0 and QC3.0 wireless induction charging. The wireless charger delivers up to 15W of total output.
The MagFix Arc M1050 also allows users to wirelessly charge their AirPods with wireless charging compatible and Watch Ultra/8/7/6/5/4/3/2/1/SE simultaneously, along with an iPhone.
The charger is designed with an ergonomic frame to accommodate the simultaneous charging of all three devices. Users can place their Apple Watch on the top pad, the Airpods can rest on the bottom rear, and your iPhone can be attached on the front using its built-in strong neodymium magnets.
It also features silicone pads to prevent devices from slipping while charging. Apart from this, the charger also has the option to keep the phone horizontally and vertically.
To be able to fast charge their devices, users will require a 20W or above PC charger or QC 2.3/3.0 compatible charger. The MagFix Arc M1050 can automatically sense the device placed on it and efficiently charge them with a power rating of up to 15W. The wireless charger is built with short circuit safeguards and over-current, over-heat and over-voltage protection while fast charging devices with intelligent power adjustment between 5W, 7.5W, 10W, and 15W accordingly.